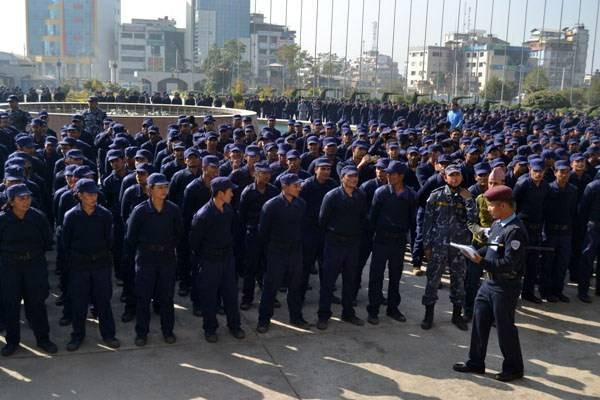 Myadi Police (Myadi Prahari) Job Vacancy for 1 Lakh Fifteen Thousand: Ministry of Home Affairs, Police Headquarters, (Department of Human Resources and Administration, Recruitment Selection Division) Naxal, Kathmandu. As Myadi Police has to be recruited for the Federal and Province level election 2079. Applications are invited from Nepali citizens who have attained the following qualifications in person.
1) Post: - Myadi Police (Myadi Prahari)
2) Required post number: - 1,15,000 (one lakh) people.
3) Date of application: - From 2079-05-30 to 2079-06-06, time from 10:00 am to 17:00 am (except public holidays).
4) Places to receive and submit application forms: - Metropolitan Police Complex (Kathmandu, Lalitpur, Bhaktapur) and District Police Office (all).
5) Required minimum qualifications and priorities:
Age Limit: Completed 18 required years till the last date of registration of application form and not exceeding 54 years.
Minimum Qualification Required:
Should be a Nepali citizen,

Able to read and write,

Not having been convicted of a criminal offense involving moral turpitude,

Not being a member of a political party,

Physically and mentally healthy,

Not being a member of a terrorist organization,

Eyes not weaker than minus 2 (-2) or plus 2 (+2),

In the case of men, height at least 5 feet 2 inches, chest 31-33 inches, weight 50 KG and in case of women at least height 5 feet, weight 42 having,

Not pregnant.
Priority for Myadi Police Recruitment:
Persons who have been enrolled as Myadi policemen in the local level or representative and state assembly member election 2074 or local level election 2079 and have performed satisfactory work,

Nepali Army, Nepal Police and Armed Police Force, former security personnel, and former forest guards who have received pension or gratuity while working in Nepal,

Persons who have passed the physical fitness and health test and submitted a copy of the admit card by applying for admission to various posts in the security agencies (Nepal Army, Nepal Police, and Armed Police Force, Nepal) till the month of Bhadra 2079,

A retired Nepali citizen who worked in the security agencies of foreign friendly countries.
6. Contact date and place:-
Date: 2079/06/07
Place: concerned police offices where the application is registered.
Time: 11:00 AM.
7. Selection Related:-
Selection start date: 2079/06/09 to 2079/06/14 (excluding public holidays).
Last publication date: 25/06/2079
Training (Training) Commencement Date: From 2079/06/30 to 2079/07/08 (including public holidays).
8. Working Period of Myadi Police: The working period of the Myadi Police will be 40 days.
9. Services and facilities:-
Daily for Myadi Police Rs. 869 (literally: eight hundred and seventy-nine only) for up to 40 days by depositing the amount in his personal bank account, the total salary is Rs. 34,760 (literally: thirty four thousand seven hundred and sixty only) will be received.

One lump sum per person for food Rs. 7,200 (literally seven thousand two hundred only). In the case of Khatin Mthati policemen in the Himalayan district, they will get the amount according to the minimum ration rate of the district.

A lump sum of Rs.6,000 (six thousand only) will be available per person for the purchase of specified clothing and other items. To purchase dark blue cloth jackets for the Myadi policemen posted in the Himalayan districts, an additional Rs. 1,000 (literally one thousand only) will be available.

During the elections, Myadi policemen who will be deployed during the election will be provided with preparation expenses at the rate of Rs.1,000- (literally one thousand only) per Myadi policeman, and at the rate of Rs.300.- (literally three hundred only) for 4 days. Lunch expenses will be available.

Other facilities will be provided by the Nepal government.
Notice Published Date: 2079-05-26
Contact Details:
Nepal Police Headquarters
Department of Human Development
Recruitment Selection Branch
Naxal, Kathmandu.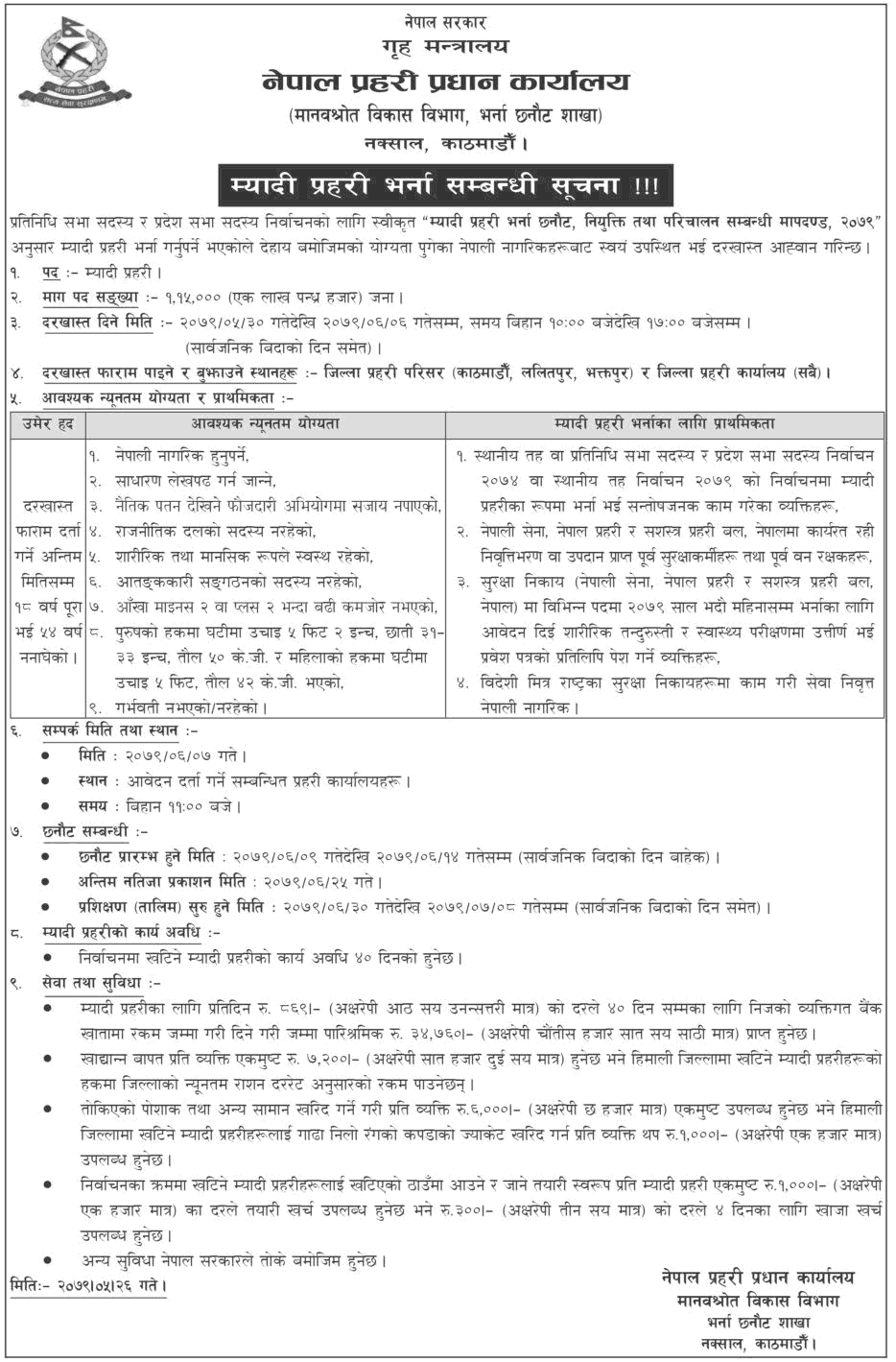 Job Vacancy
Nepal Police
Government Job