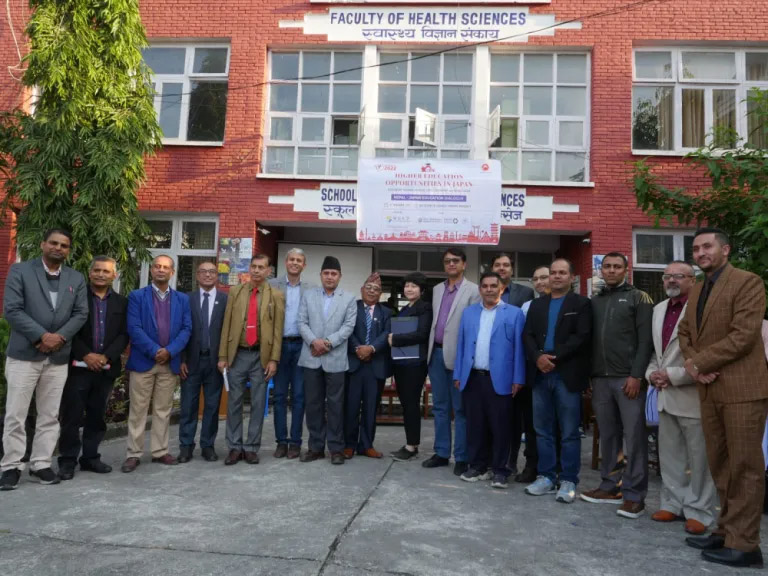 Pokhara University has organized a Nepal-Japan educational dialogue program regarding higher education opportunities in Japan. A major project of The University of Tokyo and in collaboration with Pokhara University and Media Helpline, a presentation was held on various topics of scholarships, educational programs, study environment, and employment for students held at Lekhnath, the university's academic building.
Prada Prem Narayan Aryal, Vice-Chancellor of Pokhara University, said in the program that Pokhara University has contributed significantly to the social and economic development of the country by conducting production and employment-oriented programs according to the needs of the market.
He mentioned that the university emphasizes on research for the quality and innovation of education and expressed the belief that such programs will be successful in cooperating with educational and research activities as Japan is a major destination for educational opportunities and employment along with other countries in the world.
Japanese Ambassador to Nepal Kikuta Yutaka expressed his opinion that this kind of program will be fruitful to enhance the relationship between Nepal and Japan through a video message.
Kajihiro Mori, consultant of the International Projects Promotion Group, Research Promotion Department, The University of Tokyo, mentioned that Pokhara is a very beautiful place in Nepal and said that he is willing to cooperate with Pokhara University for a beautiful future for students.
In the program, Professor Pawan Bhattarai of Tribhuvan University Pulchok Engineering Campus, Rashi Maharjan, former Nepali student of Ritsumeikan Asia-Pacific University, Mayuko Sato, Second Secretary of the Japanese Embassy in Nepal, Rai Yishida of Global Admission Office, Sarashri Dhungana of Tokyo University of Foreign Studies, Mizuho Yuno of Tokyo University of Foreign Studies Admission Center, Rashi Gupta from the International University of Japan and Kiyoshi Takeda from Kyoto University of Advanced Science made a presentation.
They made a presentation about university life in Japan, study opportunities, scholarships, including humanities and social sciences, engineering, management, and the required qualifications. Known as a beautiful and developed country, Japan is a major destination for Nepali students for higher education and financial gain. Here, there is a high demand for subjects such as IT, engineering, hotel management, travel and tourism, and emphasis was placed on the program which can be well-established even when studying these subjects in the country.
In the program, Dr. Dipesh Kharel, Jagdish Kharel, Executive Director of Pokhara University International Relations Center, Dr. Dipesh Kharel, Dr. Umesh Singh Yadav of the University of Tokyo, and others shed light on the situation of higher education studies in Japan.
Pokhara University
Pokhara