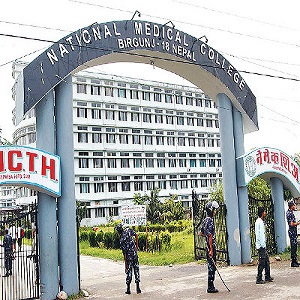 NATIONAL MEDICAL COLLEGE TEACHING HOSPITAL Affiliated to Tribhuvan University, Recognized by Nepal Medical Council Approved by the Ministry of Education, Government of Nepal. National Medical College Teaching Hospital invites applications from qualified, competent, and highly motivated candidates for the below-mentioned Positions:
Position
Minimum Qualification
Anesthesia
MD/MS with NMC registration for the post of Professor, Associate Professor, and Lecturer
Dermatology
ENT
Ophthalmology
Psychiatry
Pharmacology
Medical Officer
MBBS Degree with NMC registration
Dental Hygienists
Certificate Level Degree with NHPC Registration.
Staff Nurse
BN/BSc/PCL Nursing Degree with Nepal Nursing Council Registration (Required for Hospital)
MIS Officer
Semi Qualified CA or Master's Degree in relevant subject with minimum 2 years of experience
HR Assistant
Bachelor Degree with minimum 1-year experience preferably in the health sector
Driver
The driving experience of a minimum of 5 years with a License (esp. for Bus)
Interested candidates are requested to send their CV to the below mentioned E-mail address along with their scanned certificates or submit them to the HR department within 15 days. Retired persons can also apply.
The facility of accommodation inside the premises.
Salary: Attractive
NATIONAL MEDICAL COLLEGE
BIRGUNJ-15, PARSA, NEPAL
Human Resources Department

E-mail: [email protected]; [email protected]
Phone: +977-51-591014, 051-591320;
Mob: 9855035802, 9855035804, 9855038391, 9861908717
Hospital Job Vacancy
Parsa
College Job
Madhesh Pradesh
Health Job